Events for Educators
---
Spring 2022
Summer 2022
Mi-STAR Learning Series
All educators are welcome to attend! Mi-STAR teachers can now use the MyMi-STAR Dashboard to sign up for events.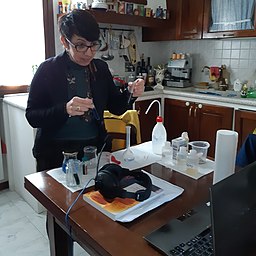 The Mi-STAR Learning Series offers virtual presentations and discussions via Zoom on topics relevant to middle school science teachers, such as best practices in remote learning and support for ELL students. Breakout rooms and a whole group discussion component follows each presentation to promote a sense of community and collaboration among participants. Presentation resources and session recordings are made available after each event.
All sessions run from 3:30 to 5 p.m EST unless otherwise noted.

Thursday, May 26, 2022, Reading Apprenticeship Strategies in Mi-STAR Register now!
Submit session questions here.
Interested in helping your science students become better readers? The Reading Apprenticeship approach models discipline-specific literacy skills and establishes routines for discussion and collaboration that tap students' own experiences. Come learn from two Mi-STAR teachers about how they incorporated literacy supports within Mi-STAR units using Reading Apprenticeship strategies, and see how you can use these supports in your own classroom. SCECHs available for Mi-STAR teachers.
*New* Phase 2: Build Your Toolkit
Phase 2 Virtual Sessions are open to all interested Mi-STAR teachers, support staff, PLFs, and TLs.
Phase 2: Build Your Toolkit Synchronous Virtual Sessions
Stay tuned for information on 2022/2023 Phase 2 synchronous virtual offerings!
Phase 2: Build Your Toolkit Canvas Courses
Prefer to work at your own pace? Use the link on the MyMi-STAR Teacher Dashboard to get an invitation to these Phase 2 Canvas Courses:
The Unit Bubble Map
System Models
Productive Talk
Claim, Evidence, Reasoning
Assessment
​
While designed to meet the needs of new Mi-STAR teachers, we encourage any and all interested teachers to use Phase 2 courses to build pedagogical skills. The courses include the whats, the whys, and most importantly, the hows of classroom implementation. They may be used to meet PLF/Coach refresher requirements as well.
Mi-STAR Professional Learning Facilitators and Teacher Leaders Virtual Training
Dates for Summer 2022 PLF and TL Virtual Training:
June 29, 8-9 am, Orientation (PLF and TL Candidates)

July 6, 12, 14, and 21, 9-11 am, PLCs (PLF and TL candidates)

​July 27, 9-11 am PLC (PLF candidates only)
Fill out the PLF/TL Training application here!
Phase 1 Early August. August 2, 8-9 am, Orientation, August 4, 9, and 11, 9-11 am, PLCs
Phase 1 Late August, August 16, 8-9 am, Orientation​, August 18, 23, and 25, 9-11 am, PLCs
Sign-up link on the MyMi-STAR Dashboard available now!

Modeling with Mi-STAR in 8th Grade, June 20 – July 8 (M-F, except for July 4), 8 am - 4 pm

Modeling with Mi-STAR in 6th and 7th Grade, July 11 – 29 (M-F), 8 am - 4 pm