Join us and you'll be in the company of hundreds of teachers around Michigan. Mi-STAR is not just a curriculum: it is also a professional learning pathway and a community designed to support you in implementing Mi-STAR and MSS in your middle school classroom.
---
---
New Teacher Enrollment in Mi-STAR for 2018-2019
Interested in using Mi-STAR next school year? Teachers who will be new to Mi-STAR in the 2018-2019 school year can enroll through a Mi-STAR Professional Learning Facilitator and get started with the Teacher Pathway for next year beginning May 1, 2018. See pricing information here.
Find a Professional Learning Facilitator and Enroll!
Visit this page to contact a certified Mi-STAR Professional Learning Facilitator in your region to register for next year.
---
Teacher Pathway Overview
To access the curriculum and the Mi-STAR community, teachers participate in a series of professional learning activities including:
Online Mi-STAR Academy courses

Face-to-face experiential sessions

Ongoing PLC meetings
The activities for this pathway are listed in sequential order below: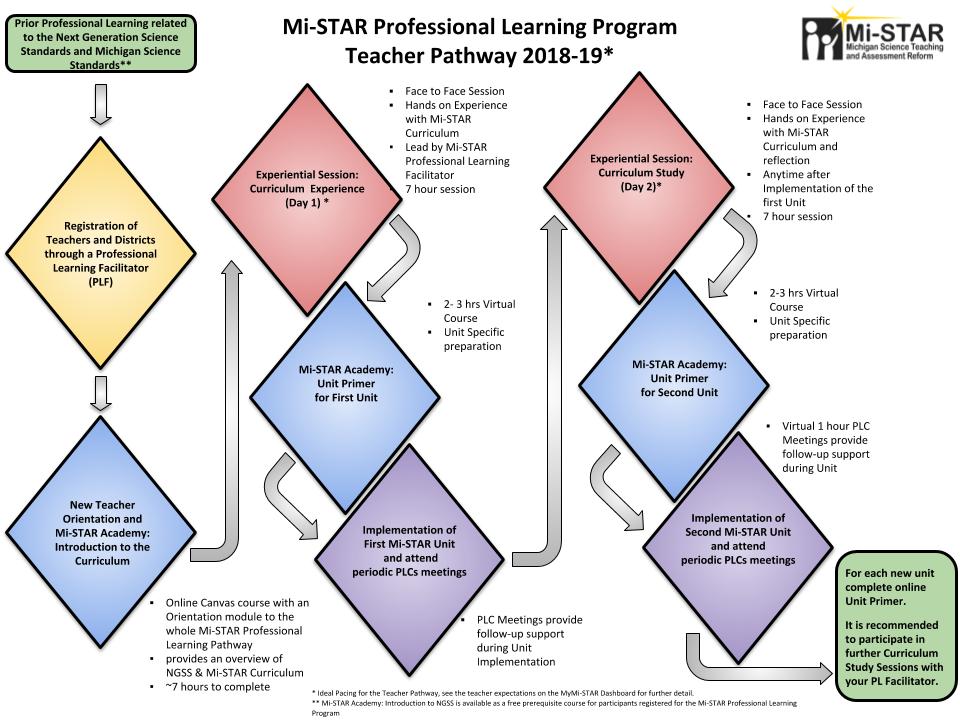 ---
Activity Details
Online Activities

Introduction to Curriculum for New Teachers

This self-paced course combines an orientation to the Mi-STAR Project with an Introduction to the Curriculum course.

Unit Primers

Participants complete an online Unit Primer for the specific units they will teach. These courses help teachers with the preparation they would normally do for a unit, by walking them through the important parts of the unit.

Face-to-Face Activities

Experiential Sessions

These face-to-face sessions provide hands-on practice with the Mi-STAR Curriculum. It is recommended that teachers participate in a one-day experiential session before the start of the fall semester and a second one-day session before the start of the spring semester. These sessions are facilitated by Mi-STAR Professional Learning Facilitators.

Professional Learning Community Sessions

These periodic sessions are facilitated by a Mi-STAR Professional Learning Facilitator and conducted while classroom implementation of a unit is taking place. The time, format and organization of the PLC group are decided according to local or regional needs.