Integration of Science and Engineering
The Mi-STAR curriculum integrates science and engineering both throughout the school year and within units. The year's units span concepts from multiple science disciplines. Additionally, students apply practices and concepts from science and engineering within each unit to address the Unit Challenge's real-world issue or problem.
---
In the Classroom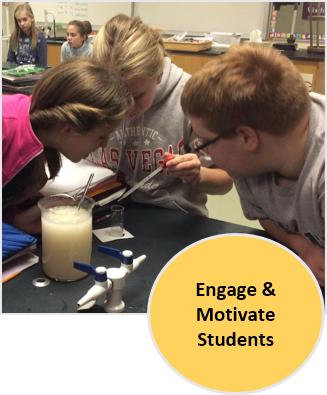 Within most Mi-STAR units, students must integrate science and engineering to complete the Unit Challenge. Most often, they investigate phenomena related to a real-world problem or issue, and then take what they learned about the phenomenon and use engineering practices to address the problem or issue. For example, in Unit 6.1, students are faced with a flooding problem. They learn about the science behind the water cycle and the mechanisms that cause water to move. Then, they then use that knowledge to define the characteristics of a good solution to the flooding problem. In Unit 7.4, students model the scientific mechanisms of thermal energy transfer and use that to engineer a self-cooling dog crate for use on a hot day.

The STEM disciplines are distributed throughout the Mi-STAR curriculum across grades 6-8, with the four domains of NGSS (Earth and Space Science, Life Science, and Physical Science, and Engineering, Technology, and Applications) represented in all three grades.

By integrating a variety of science and engineering concepts within the units and throughout the curriculum, Mi-STAR gives students the tools they need to solve problems the way scientists and engineers do: by using multidisciplinary practices to address real-world phenomena. Students look beyond the memorization of discrete or disjointed facts to develop a deeper understanding of science ideas that they can apply to the world around them. This makes science more interesting and more relevant to them.

---
A Deeper Look
Multiple studies have shown that integrated STEM curricula have positive effects on student achievement at the middle-school level (Becker and Park 2011). For curriculum developers, the phenomena being studied, or the real-world context of the learning, typically determines the nature of the integration. In the Mi-STAR curriculum, the Unit Progression Model lays out a progression of primary disciplinary core ideas, many of which come from the same disciplines. In order to allow for integration and coherence within and across units, Mi-STAR curriculum developers apply the convention of "supporting sub-components" of performance expectations. These are components (disciplinary core ideas; science and engineering practices; crosscutting concepts; nature of science components; or science engineering and society components) of additional performance expectations beyond the primary performance expectations in a unit. The supporting are determined primarily by the phenomena or real-world context that the curriculum developers choose as the focus of the unit or lesson.
---
Sources
Becker, K., & Park, K. (2011). Effects of integrative approaches among science, technology, engineering, and mathematics (STEM) subjects on students' learning: A preliminary meta-analysis. Journal of STEM Education: Innovations and Research, 12(5), 23-37.